Archive for the 'Opinion' Category
Last Friday, Wayne Hale's blog was about standards, or lack of them. It's worth reading.
He starts out discussing some shuttle tanks that were tested at White Sands, then testing moved to KSC, and things were not the same. Standards problem-
For space flight hardware, the Shuttle program specified the standards used in the design, development, testing, and production. But for ground test equipment, the space center where the equipment was used was responsible for the standards. You might think that NASA would have a set of standards for things like welding a pressurized metal tank used in ground checkout of space flight hardware. But if you thought that you would be wrong. Much of the time NASA appears to be a loose confederation of 10 quasi independent fiefdoms, each pretty much in charge of their own business. People often ask me what would I do if I were king of NASA for a day. They expect me to say something like: build this rocket, launch that satellite. Rather I think how I would standardize the procurement processes, or the human resources procedures, or the engineering standards used across the agency. But then I always was a dreamer, tilting at impossible windmills. Launching rockets is easy; getting engineers to agree on standards is hard…
Hale is quite right. I spent most of my engineering years working commercial airplanes (engines actually) and when I migrated to NASA I noticed this too. I probably mentioned this so much at work that people got tired of hearing it. It's good to see someone like Hale agreeing!
NASA does have a mess on it's hands with regard to standards. The reasons for it are many, and it's too much to get into in a short web update. I think the main reason is that each Program comes up with it's own, and there is no need to fit the previous standards, or standards that another center is using. What you end up with is a confused mess of agency standards and many center standards that don't agree. Plus when meeting this cloud of requirements gets too confusing, people get waivers-which makes standards a waste of time anyway.
Each time I ran across this, I would think of what would happen if a major airline allowed each major hub in it's system to come up with it's own standards. Maintaining planes would be way too complicated. Every airline knows this. They write a single requirements document for the whole company, applicable worldwide. If you need to write up an item and document how it was cleared, the same forms and same procedures apply, regardless if work is done in Orlando, Paris, or Tokyo.
On the other hand, you may just ask "so what?" It's not like the Shuttle needed to land at 100 different airports. Most NASA vehicles take just one trip anyway.
The problem Hale is writing about in this case could be worked another way. When a large air carrier wants to put an engine or airplane in a third-party shop, they maintain different quality manuals. Before work starts, an audit is done to verify line-by-line that what the repair shop will do meets the requirements of the carrier. The rest is insight and oversight, something NASA needs to get good at for SLS and commercial crew. This is just as important as standardizing standards.
There have been some initiatives to address the problem Hale wrote about, but they were not high priority. When a new Program comes along, people forget about these things and focus on doing that one program, with it's custom standards and everything else (SEMPs).
Share
Don't believe anything you read in the Washington Times.
From Space.com-
Rumors of the death of NASA's planetary science program are greatly exaggerated, according to the head of the agency division responsible for that activity.

Speaking at an Oct. 27 meeting of the NASA Advisory Council's Planetary Science subcommittee, Jim Green, director of NASA's Planetary Science division, took issue with an opinion piece claiming the agency was gutting its robotic exploration program following a pair of upcoming missions.

"It is not true the planetary program is being killed," Green told subcommittee members participating via telephone and Internet. He was referring to an assertion by Robert Zubrin, an outspoken advocate of Mars exploration, in an opinion piece published Oct. 26 by the Washington Times…
Share
From Spacepolitics.com-
Former Speaker of the House and current 2012 Republican presidential candidate said Thursday he would "absolutely" privatize human spaceflight if elected president. Speaking at a town hall meeting in Dallas, Gingrich was asked about the Space Launch System (SLS) heavy-lift rocket that NASA is developing as required by the 2010 NASA Authorization Act. "I think it is disgraceful the way getting into space has been turned into a political pork-barrel. It's an abuse of the taxpayer and an abuse of America's future," he said, according to a statement from the Space Frontier Foundation, which also provided a transcript of the exchange. "It is a tragedy that between bureaucrats and politicians we have reduced NASA to the point where we are relying on Russian rockets to get to the space station…"
OK, so Gingrich is against pork-barrels. He wants alternatives to government-led programs. I did a quick google to see if Gingrich is consistent with this view, and he's a flip-flopper.
From Prospect.org-
When it comes to the Iraq War, Gingrich has a long history of flipping, flopping, and then flipping again. As Alex Koppelman reported in Salon last year, "As a close advisor to the administration over the past six years, and an intimate of both Vice President Dick Cheney and Secretary of Defense Donald Rumsfeld, Gingrich was a powerful advocate both for the idea of invading Iraq and for the botched way in which it was done." A member of the influential Defense Policy Board, Gingrich helped draw up war plans at the Central Command for the Middle East in Tampa, Fla. And his Oct. 16, 2002 USA Today column about Iraq was titled, "Strike Sooner Than Later."
Well there ya go. If Gingrich was really into private solutions and getting government out of the way, he would have told the oil companies to hire their own mercenary army to invade Iraq and take the oil!
Share
Sheesh.
Nasawatch is still running some news bits about that NASA Powerpoint it got from last July that discussed just about everything on SLS and alternatives, including international partners and fuel depots.
From Nasawatch-
…it is obvious that even a year ago pragmatic thought was given to how a variety of launchers could be used for human, cargo, and other launch purposes including ways that mission profiles (DRM 4) usually associated with a HLV could be accomplished in whole or in part by the use of expendable launch vehicles. A more detailed look at what was being reviewed last year can be found at "Human Exploration Framework Team Presentation Online".
Duh. This was discussed last time people were fussing over SLS vs alternatives, about a year ago. I don't recall seeing the previous year's charts online, but NASA did do a good, pragmatic study, as reported here. The study took into account different mission scenarios, lift capacity to carry out those missions, and different combinations of rockets that could do it (existing or planned), plus the time required to build the different fleets of rockets and/or depots, complexity, and reliability. SLS would cost more, but turntimes between missions are less and it's not so complex.
If you replace SLS with a fleet, you still have to build the fleet at the right time and get them all into space when you need them, without anything going wrong.
Maybe Congress just wanted an SLS because it's tall and looks cool. Maybe they looked at all the numbers and decided to keep it simple. (And then there may be uses for it they don't want to talk about.)
Share
From Wayne Hale's blog-
On April 29, 2002, the newly confirmed NASA Administrator Sean O'Keefe planted a time bomb in the International Space Station program. Coming to NASA from the US Office of Management and Budget, where he was Deputy Director, Mr. O'Keefe had a reputation as a bean counter and penny pincher. Mr. O'Keefe publicly joked that he was not smart enough to be NASA Administrator. But he knew the ISS program needed political capital in the US political arena. Providing a big, flashy cut in the ISS program would cement O'Keefe's position as NASA Administrator and aid in the annual budget fights in the US Congress. One part of the ISS program caught his attention: the plan to develop a US "lifeboat" for the ISS. Since the Russian Soyuz could fulfill that job – and the Russians were providing that service as part of their initial contribution to the international partnership – the Crew Rescue Vehicle (CRV or X-38) became an easy cut. So on April 29, the total dependence on the Soyuz for the life of the ISS program was established by NASA fiat, with virtually no consultation with the other ISS partners…

…We could have really used that CRV. It might even have become the basis of a mini-shuttle crew transport vehicle. But no; it was eliminated for the most transient and banal of reasons. The old adage against being "penny wise and pound foolish" has struck the human space effort once again.

Or more to the point; every good space designer knows that a system with a critical single point failure is not a good system. Reliability is key, but even then, having redundancy is the standard practice for a truly resilient system.
Full story…
Share
Whenever you see something labeled "health drink," beware. There is so much nonsense in marketing, you can just about count on anything labeled "health" as bad for you!
But, sometimes things are real. That may be the case with "Unpeeled," a kombucha drink developed by a former shuttle engineer.
From KAALtv.co-
In this economy entrepreneurs have to think outside the box to turn an idea into reality. A St. Paul inventor did just that. He came up with a drink called Unpeeled. He did it to be healthy.

St. Paul chiropractor Dr. Michael Johnson once worked as an engineer on NASA's Space Shuttle Wastewater System. It's a job that earned him the nickname Number One.

That experience brought up concerns over the kinds of things that were passing through his patients, including cola and coffee.

A few years ago, Dr. Mike used his NASA experience and nutrition knowledge as a chiropractor to develop a healthy probiotic beverage. He called it Unpeeled…
What the heck is kombucha? It's a non-alcoholic fermented beverage popular with hippie-store naturalists. Read up on it. Google the book Nourishing Traditions. I'm not sure why this is "inspired by space" like the above website says, but hey, it's better than Coke or hormone-choked dairy.
Share
Space settlements are fun topics for movies. There are a lot of space advocates thinking about how to do it, and looking to NASA to take the lead. It's fun to think about, but it's not happening.
From Spacepolitics-
Some people in the space advocacy community have a long term goal that goes beyond going back to the Moon or sending human expeditions to Mars: they want to see people working and living—permanently—in space. From the early visions of space colonies by the L-5 Society to the modern-day desire of Mars Society members to establish an outpost of human civilization on the Red Planet, these people want to do more than explore space; they want to see people making it their home. Should that vision be part of national space policy—or is it already?

Over the last 18 months advocates of space settlement have been getting mixed messages from the White House and NASA leadership on this topic. In his speech at the Kennedy Space Center in April 2010, President Obama appeared to endorse, albeit indirectly, the concept of space settlement: "Our goal is the capacity for people to work and learn and operate and live safely beyond the Earth for extended periods of time, ultimately in ways that are more sustainable and even indefinite." Obama never used the "s-word"—settlement—but the idea of living and working in space in "indefinite" ways certainly sounds like it.

But at a town hall meeting at the Johnson Space Center in late September, NASA administrator Charles Bolden seemed to suggest space settlement was not part of the agency's vision. "Bolden says we're not looking for other places to live, [we're] going to explore to better understand our place in universe and life on Earth…"
Share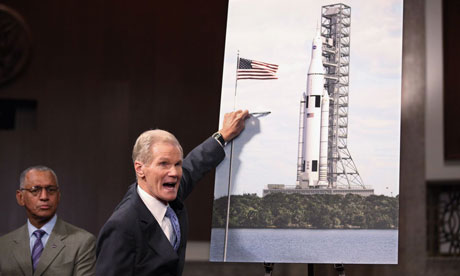 This is an opinion that popped up on the RSS feed from kpbj.com-
In today's era of $14 trillion budget deficits, $18 billion seems like chump change. But with every penny of federal spending on the chopping block, that amount is eye-catching.
NASA needs that money over the next five years to build its new space launch system — a behemoth rocket that would eventually carry our astronauts to Mars. The rocket will be topped with a space capsule similar to Apollo, which carried Americans to the moon and back 40 years ago.
The new rocket will be tested in an unmanned flight in 2017, with the first manned flight four years later — if everything goes well and the president and Congress supply the cash.
While NASA needs $18 billion to launch the program's first test flight, that doesn't include later costs for building a fleet of rockets, modernizing launch facilities, upgrading manned capsules and providing astronauts with spacecraft able to land on future destinations. The program's total price tag is currently estimated at $35 billion, and an accelerated program could cost more than $60 billion.
So why spend the money at all?
First, over the decades, the U.S. space program has solidified America's leadership role in the world, fostered incredible advances in science and technology, produced thousands of innovations and products we use in our daily lives, and inspired millions of American youth to pursue careers in science and math…
Share
This is a couple of weeks old, but CNN just ran a segment about it that inferred that Space X would give him a ride (yeah, sure they will)-
From a PR blog-
Celebrated runner and philanthropist Jonathon Prince announced today his plans to make history by becoming the athlete to run the first mile on the Moon.

With the aid of key industry partners and his global community of supporters, Prince plans to rebuild the excitement and optimism that defined the first forays into space nearly 50 years ago. Prince's "Mile On the Moon" project will unfold over several years of intensive training, strategic partnerships and global outreach, with the goal of completing the first mile on the moon in 2016.

Prince's "Mile On the Moon" project unfolds at the dawn of a new era in the space industry, now driven by visionaries in the private sector. He elaborates, "'Mile On the Moon' is dedicated to all mankind as an inspiration to dream Big Dreams and realize that the sky is no longer the limit to human potential…"
It sounds cool and Prince seems like a great guy. I hope he survives the training. The same site claims that he has run over 10,000 miles since 2005 for good causes. Maybe this guy hasn't kept up, but that much running is bad for your health. It's called "chronic cardio" and damages heart muscles and stresses the endocrine system.
Some may find this surprising, but it's true. Don't take this blog's word for it…
See for yourself. Google these phrases-
long distance runners and heart damage
"chronic cardio" stress cortisol
(I could just link to articles but don't want to get into debating the source.)
Share
Neil Armstrong and Gene Cernan were back in Washington, DC last week sounding off to a House Committee about the direction of human spaceflight.
Both moon landing heroes obviously don't see the kind of enthusiasm and commitment to human spaceflight that they remember from Apollo days. Without a Red Menace to scare money out of Congress, that is not going to change.
From Humanspaceflight.com-
As the Space Launch System (SLS) continues to push on – with the latest stage being the release of the acquisition overview – NASA's recent official announcement of the new launch vehicle has been warmly received by the first and last men to walk on the Moon. However, both Neil Armstrong and Captain Gene Cernan remain concerned by the lack of goals and destinations…

Armstrong-

The past year has been frustrating to NASA observers, as they tried to understand NASA's plans and progress. The NASA leadership enthusiastically assured the American people that the agency was embarking on an exciting new age of discovery in the cosmos…But the realities of the termination of the Shuttle program, the cancellation of existing rocket launcher and spacecraft programs, the layoffs of thousands of aerospace workers, and the outlook for American space activity throughout the next decade were difficult to reconcile with the agency assertions…

Cernan-

Until this past week, NASA had continued to disregard, ignore, and flaunt the law and the mandate of the Congress while continuing to pursue its own agenda of disabling our nation's space program. It had become obvious that NASA as directed by the Administration has had no interest in following the law and the mandate of Congress in the development of a heavy lift launch vehicle…

…Today we are on a path of decay. We are seeing the book closed on five decades of accomplishments as the world's leading space-faring nation. As unimaginable as it seems, we have now come full circle and ceded our leadership role in space back to the same country, albeit with a different name, that spurred our challenge five decades ago…My immediate concerns are the deterioration of our technological base, the lack of stability of the NASA budget when considering the present state of the economy, the absence of the Administration's commitment to cooperate with Congress and forge an ambitious program, the question of continued bi-partisan Congressional support, and perhaps the most important risk with lasting effect, is the loss and dismemberment of our skilled workforce…
Spacepolitics asks (dated Sept 23), "Did yesterday's sound and fury signify anything?"
…So this hearing may have been little more than an opportunity for critics of the administration's plan—which, as the NASA statement implied, has the endorsement of Congress in the form of last year's authorization act—to vent their frustrations that things aren't going they way they would like, rather than an attempt to reshape policy in the near-term. With the current authorization act in effect for two more fiscal years, and little interest by appropriators to rectify those perceived shortcomings by, say, putting more money into SLS and MPCV (or CCDev), the current policy is likely to be in place at least into 2013. And even if a new president takes office in January 2013, space is probably not going to be a high priority for him or her given the current focus of candidates' campaigns on jobs, the economy, and other issues outside the realm of human spaceflight.
Nasawatch has a lot more detail and links to statements and testimony…
Share