Archive for the 'Development/Test' Category
From Aviationweek-
Lockheed Martin has cut out an entire test article from the Orion crew exploration vehicle that it is recasting in a new role as deep-space Multi Purpose Crew Vehicle (MPCV), combining test objectives for the remaining articles in an effort to keep the vehicle within the tight schedule set by Congress.

By combining the tests that will be conducted with particular test articles, the company plans to send an Orion capsule into orbit on its first test flight in 2013, according to Cleon Lacefield, the company's program manager. The first capsule produced is now being prepared for ground tests at company facilities here and once those are over, it will be reinstrumented to fly on the first ascent abort test in 2014…
Share
From Aviationweek-
Iran has test launched the latest version of a rocket capable of sending satellites and carrying living creatures into space, the official IRNA news agency reported March 17.

In the latest step of a space and missile programme which has alarmed Washington, the Kavoshgar-4 rocket was launched on Tuesday carrying a capsule designed to contain living organisms, a test run for future launches carrying monkeys, ahead of an eventual manned space mission.

The launch aimed to test the performance of the engine, the launch pad, the capsule and electronic systems, including "data and images sent from a 120 km (75 mile) orbit", IRNA said…
Share
The Can Crush test will probably cost a lot more than this one.
From Nasa.gov-
NASA will conduct an innovative engineering test on March 23 to help improve future heavy-lift launch vehicles design.

The 9:30 a.m. CDT test, which will air live on NASA Television's Education Channel and the agency's website, will occur in Building 4619 at NASA's Marshall Space Flight Center in Huntsville, Ala.

During the test, a massive 27.5-foot wide, 20-foot-tall aluminum-lithium cylinder will be positioned between two large loading rings and subjected to one million pounds of force until it buckles. The resulting data will help validate new shell buckling knockdown factors, which are complex engineering standards that will help design lightweight, safe and sturdy structures for future launch vehicles. The current knockdown factors date back to pre-Apollo-era studies — well before modern composite materials, manufacturing processes and advanced computer modeling…
Share
Liberty = Ares 1 with a new upper stage and "BNG" (Bold New Graphics!).
You can't blame the space blogs for having a field day with this news. Now ATK and Astrium have teamed up for a CCDev-2 idea that combines the Ares 1 First Stage with an Ariane 5.
Give credit where credit is due! It's all about recycling, international cooperation, and the name is "Liberty." Plus it has those hip BNG…
From Universetoday-
An idea too good to die, or a case of recycle, reuse, reduce? Two rocket companies are joining forces to use part of the Ares-1 rocket and combine it with elements of the Ariane 5 launcher to create a new launch system called Liberty that they say will "close the US human spaceflight gap." US company ATK (Alliant Techsystems) and the European firm Astrium announced their collaboration today on a 90-meter (300-ft) rocket that would fit under NASA's Commercial Crew Development-2 (CCDev-2) procurement. The companies say the new rocket could be ready by 2013…
Share
Nasawatch/Spaceref have posted the full text of the report of Congress about SLS that fulfills Section 309 of the NASA Authorization Act of 2010, the section that gives NASA 90 days to do-
…a detailed report to the appropriate committees of Congress that provides an overall description of the reference vehicle design, the assumptions, description, data, and analysis of the systems trades and resolution process, justification of trade decisions, the design factors which implement the essential system and vehicle capability requirements established by this Act, the explanation and justification of any deviations from those requirements, the plan for utilization of existing contracts, civil service and contract workforce, supporting infrastructure utilization and modifications, and procurement strategy to expedite development activities through modification of existing contract vehicles, and the schedule of design and development milestones and related schedules leading to the accomplishment of operational goals established by this Act. The Administrator shall provide an update of this report as part of the President's annual Budget Request in subsection (a) not later than one year after the date of enactment of this Act…
Spaceref article that links to the full report…
See also- A heavy-lift design – with a catch, on Spacepolitics…
If Congress wants a report by 90 days, a report is what Congress gets. It still seems like homework is getting turned in that is hardly finished.
Share
This update from Nasaspaceflight has the most detail about what kind of SD HLV NASA is talking to Congress about, and notes that it needs more money and won't make the 2016 deadline.
There is accurate detail about the three RAC teams, but still something is missing. The RAC teams finish date is mid-Feb 2011. This news pretty much reflects the design that Team 1 was working on. Did someone just skip to the end and turn the homework in already?
From Nasaspaceflight.com-
A preliminary NASA report, outlining plans for developing a Space Launch System (SLS) in response to the NASA Authorization Act of 2010, has put its weight behind a Inline Shuttle Derived (SD) Heavy Lift Launch Vehicle (HLV). However, the report to lawmakers complained it would not be able to build the vehicle based on the funding and schedule requirements.

SLS:

Last year, lawmakers ordered NASA to produce a report on the 'reference designs' for the SLS – and the Multi-Purpose Crew Vehicle (MPCV), otherwise known as Orion – following President Obama's signing of the NASA Authorization Act of 2010 on October 11, 2010.

Led by the Human Exploration Framework Team (HEFT) – tasked with providing decision support to NASA senior leadership for planning how the Human Space Flight (HSF) program will explore beyond LEO, including the evaluation of SLS options – three RAC (Requirements Analysis Cycle) teams evaluated potential SLS configurations, with a goal to derive vehicle-level designs which can meet NASA HQ requirements.

RAC-1 studied inline, LH2 core vehicles with Solid Rocket Boosters (SRB). While this vehicle is the previously noted SD HLV, the teams avoided the use of such a name, given they were allowed to trade Space Shuttle Main Engines (SSMEs) with RS-68s, while also trading SRBs with Liquid Rocket Boosters (LRBs), in order to ensure they have the best configuration to battle with the other HLV candidates…
See also: "NASA to Congress: HLV Will Cost More, Take Longer, Look The Same" on Nasawatch…
Share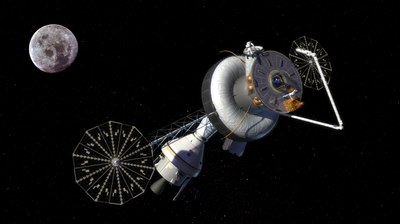 From TheSpaceReview-
For more than a decade, several teams have assessed designs for a long-duration free-space human habitat beyond low Earth orbit (LEO), building upon years of hard-won experience with the International Space Station (ISS). These systems would enable multiple achievements for science and human space flight. Most were intended to be deployed using available or near-future capabilities within about a decade after funding begins and serve as the first major human "stepping stone" beyond LEO. Last year, Thronson and Talay summarized work up to that time on expandable or inflatable concepts for deployment at an Earth-Moon (E-M) L1 or L2 location (see "'Gateway' architectures: a major 'Flexible Path' step to the Moon and Mars after the International Space Station?", The Space Review, February 8, 2010). Here we summarize our team's more recent work both on a long-duration human habitat that could be deployed beyond LEO within a decade and on the priority goals that such a habitat might accomplish. Particulars of this and other concepts for human operations in cis-lunar space are posted at www.futureinspaceoperations.com, will be presented at professional conferences, and detailed in future publications by our group.

Productive, long-duration human operations in cislunar space are likely prerequisites for human travel beyond the vicinity of the Earth-Moon system…
Share
From PR Newswire-
NASA has awarded Pratt & Whitney Rocketdyne a contract worth approximately $622,000 to conduct systems analysis and trade studies for heavy-lift launch vehicle system concepts, propulsion technologies and affordability. Pratt & Whitney Rocketdyne is a United Technologies Corp. (NYSE: UTX) company.
"As a provider of human-rated rocket engine technology with decades of proven success, Pratt & Whitney Rocketdyne is honored to help NASA evaluate heavy-lift launch vehicle concepts and propulsion technologies for affordability and sustainability – aspects essential for future space exploration missions," said Jim Maser, president, Pratt & Whitney Rocketdyne.
Under NASA's Heavy Lift & Propulsion Technology Systems Analysis and Trade Study (HLPT), Pratt & Whitney Rocketdyne will help NASA lay the groundwork for a flexible space transportation system that could deliver humans to asteroids, the moon, Mars and beyond. The study will include an assessment of how key development decisions may affect launch systems and overall mission architectures; how innovative or non-traditional technologies may be applied to heavy-lift systems to improve affordability and sustainability; and how aspects of a heavy-lift system, to be developed by NASA, could be leveraged by the Department of Defense, commercial entities and international partners…
Share
From Businessnewsdaily-
NASA needs help filling technology gaps — and help soon will be on its way courtesy of as many as 350 small businesses that NASA has handpicked to address "critical" research and technology needs within the agency.

The technology firms, which were selected from a pool of nearly 1,900 proposals from across the U.S., are negotiating contracts for seed funding with NASA, officials announced Dec. 8.

When talks end, NASA anticipates the businesses will create or improve new products and services as part of the agency's Small Business Innovation Research Program (SBIR) and Small Business Technology Transfer Program (STTR).

"The (programs) help facilitate innovative research and technology development among America's most creative small businesses," said Bobby Braun, NASA chief technologist in Washington, D.C.

Past projects within the two programs have impacted the International Space Station, air-traffic control systems and robotic explorers.

This year, some businesses proposed working on:

Analytical and experimental methodologies for reliably predicting the effects of aeroelasticity and its impact on aircraft performance, flight dynamics and safety of flight.
Advanced photovoltaic systems to enable low cost, low mass, high reliability and efficient power generation systems for a wide variety of deep space exploration missions.
Innovative technologies for accurate measurements of atmospheric parameters and surface topography of the Earth, Mars, the moon and other planetary bodies.
Technologies that provide innovative ways to leverage existing International Space Station facilities for new scientific payloads and on orbit analysis to enhance capabilities and reduce sample return requirements…
Share
Nasaspaceflight.com has details of last week's all-hands at MSFC that goes into detail about SLS planning. Note they discuss the three RAC (Requirements Analysis Cycle) teams that have been busy for about a month.
These three RAC teams are all working on different SLS configurations. This is the first online reference to them (as far as I know). You could say that a RAC is an "SRR-Lite".
From Nasaspaceflight.com-
A final round of potential Heavy Lift Launch Vehicle (HLV) options – which will allow the NASA leadership to choose the design of the Space Launch System (SLS) as early as April, 2011 – has been created by The Human Exploration Framework Team (HEFT), which is coming to the end of its current architecture design phase.

HEFT2 and the SLS HLV:

The HEFT – tasked with providing decision support to NASA senior leadership for planning how the Human Space Flight (HSF) program will explore beyond LEO – are evaluating a set of options and forward paths via wide-ranging architecture options, including one of the focal points of NASA's space flight future, the HLV – otherwise known as the Space Launch System (SLS).

The HEFT are tasked with evaluating a viable path which reaches out as far as 2028 and potentially beyond, working with NASA's administration and steering councils, whilst providing a number of key recommendations to the NASA leadership.

One of their opening findings earlier this year dismissed large parts of the now defunct FY2011 proposal from President Obama, such as the recommendation to remove the initial requirement of a five year study of evaluating the design of the HLV. This finding continues to be a key recommendation several months later…
Share